"

Fritz's supple voice can haunt, hell-raise or break hearts as appropriate."
— Willamette Week
Genre: Cello Folk
Label: self-released
Hometown: Portland, OR
Influences: Pete Seeger, Sweet Honey in the Rock, Bob Dylan
Sounds Like: Gillian Welch, Cat Power, Holly Near
 Songs to lead us, feed us, and hold us up.
Anna Fritz plays songs that crack you open and heal you. She creates a musical alchemy of cello and voice, strumming the cello like a guitar and playing beautiful melodies with the bow as she sings. Her songs are used as political anthems and intimate prayers, touching on themes of colonization, climate, racial justice, gender, and connection to the living world. Like the great folksingers of previous generations, Anna is a catalyst for people to sing together. Her songs are infectious and easy to learn, imbued with a sense of timelessness as if they've been sung for generations. Her disarming, gentle nature and powerful presence get unlikely crowds of people singing together from town halls to night clubs. 
Listeners will find plenty of rockstar cred in this folksinger's past, backed up by a rigorous classical training. Anna Fritz is a sought after cellist whose work can be heard on albums from My Morning Jacket, Band of Horses, The Decemberists, and First Aid Kit. Her playing supports Madison Cunningham on her 2023 Grammy-winning album, Revealer. Anna toured nationally with Portland Cello Project for seven years and as a solo artist, has independently released three albums and toured extensively in the West and Midwest. She also composes music for theater and performs regularly in prisons, schools, and homeless shelters.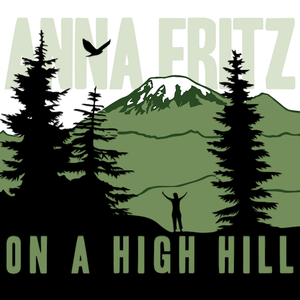 With her 2016 release, On A High Hill, folksinger/cellist Anna Fritz delivers inspired performances, captured in their powerful simplicity - like a classic folk record. The album plays like an intimate concert for one, with Fritz recording her cello and singing at the same time, just as she does in live performance. Recorded by John Askew, the producer/engineer behind Laura Gibson's 2016 release Empire Builder, and produced by Ji Tanzer of The Blue Cranes and Swansea, On A High Hill, is Fritz's third solo effort. It follows her 2013 release, The Gospel of Tree Bark, distilling that album's lush chamber folk sound to get at the heart of what she brings as a solo artist. Paring down to one cello and one voice, Fritz proves her uncanny ability to bring great new folk anthems up from the ground and share them like healing medicine and tools of change. Indeed, "Leave it in the Ground" is already being used by climate activists across the country at protests and direct actions, and the acapella tracks that bookend the album, "Morning Prayer" and "I Hold You Up", are sung as prayers by people scattered throughout the American west.