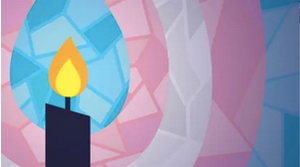 I'm honored to be providing cello music again for the Interfaith Vigil for Transgender Day of Remembrance here in Portland, Oregon. I'm so grateful for the unique brilliance of each of the trans and nonbinary people I've had the privilege to love, witness, collaborate with, and know in my life. Mourning the loss of those taken from us and recommitting to fighting for justice is an important practice for me and I'm grateful to do it in interfaith community. I hope that you'll join us in person, online, or at your own TDOR event locally.
Saturday, November 19th, 2022
4:00pm
(gathering music begins at 3:40pm)
First Unitarian Church, Eliot Chapel
1211 SW Main St.
Portland, OR
Gather with us in person or virtually for an interfaith service featuring local spiritual leaders, public officials, music and a candle lighting ceremony for the fallen. This TDoR service is open to the entire community and is being hosted by transgender and interfaith allies. We invite all people, transgender or cisgender to join us in this reverent observation. 
There will be a reception after with the opportunity for both indoor and outdoor socializing with light refreshments provided.
MASKS ARE REQUIRED for in-person attendance. Click here for more info and livestream details.