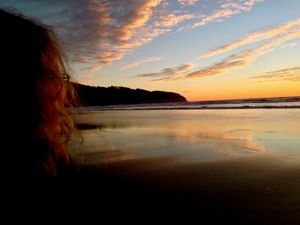 I'm recently back from a brief camping trip at the Oregon Coast to chase away the winter blues. Sometimes the best way to deal with a reality you don't like is to unite with it completely (e.g. go out in the dreary rain) so it can reveal its beauty to you. The coast was marvelous, and actually quite dry, and now I'm home to play some music for you folks in Portland and very slightly beyond!

Show with Huck Notari at The Ranger Station (SE Portland):
Saturday, February 28th, 7:30pm
4260 SE Hawthorne Blvd.
free (suggested donation)
I'm sharing the bill with local country-folk artist Huck Notari who writes beautiful timeless songs that make you wish you lived in a cabin in the pines with a wood burning stove. And a dog. I'm on first and then Huck plays around 9, accompanied by Karin Nystrom.
You can listen to some of Huck's music here.
And announcing:
Songs of Spirit, Justice, and Rebellion: a mini-tour with Seth Martin
I'm excited to announce three upcoming dates with folksinger Seth Martin, who I see carrying on the tradition of our mutual heroes Pete Seeger and Utah Phillips. After appreciating each other's work from afar, we've decided to put what we do on the same stage. We're both songwriters with a lot to say about justice and rebellion, we're both deeply connected to Quaker communities, and we're both committed to getting folks singing together! I hope you'll join us at a Friends meeting or church near you!
Click here for dates and locations.
You can check out Seth's music here.