There's a reason there's been little news to report here for many months: I've been deep in the process of writing a dramatic work that incorporates theater, music, and projections of visual art called The Antigone Cycle. After bringing it into the light for an initial read through of the script with music cues in May, it required some rest, some breathing room. As the season turns, I've put some writing retreats on the calendar to edit, re-draft, and start making a plan to workshop the play. 
If you're curious, you can hear an excerpt of the score for solo cello, read more about the project, and support the writing process here:
My Patreon Page.
That's what makes this all possible!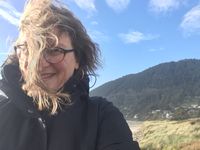 Me with Neahkahnie Mountain, my direct supervisor.